Decals - Stickers - Bumperstickers - Removeable Bumperstickers
We do not sell dropshipped decals.
Stickers - Magnets
Printed on vinyl, not paper

Fade Resistant Inks

UV Resistant Laminated overlay - helps resist scuffing, damage, abrasion, dirt..

Standard Size - 2x2", 3x3" and 4x4"

For magnets, the stickers is applied to .030" magnetic sheeting, not the thin .015" others use

Can be placed on cars, mailboxes, wall lockers, just about anywhere

Waterproof - resists snow, ice, water, sun

Flexible - not stiff like metal - won't break or damage

Your magnets will not have 'Sample' on them.

If the black outline is shown around the image above, it will not.be on your magnet. This outline displays the size and is used for reference purposes only.

Don't see your year or color? Ask us!
Vinyl Lettering in Multi Color.
One Color Vinyl Lettering in your choice of 24 colors!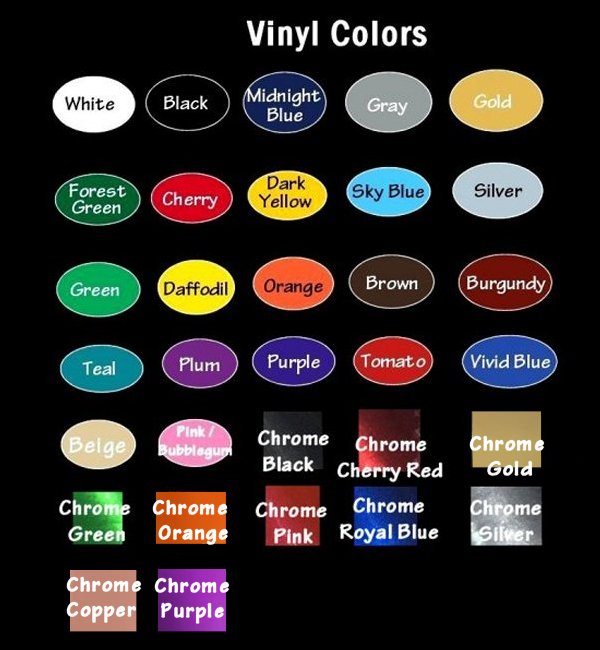 Please note that the colors in the chart may vary due to being viewed on different monitors.

All lettering is solid vinyl, not printed.
Our Vinyl Lettering is Professional Engineering Grade and is rated for a minimum of 6 years outdoor use with normal care.
Permanent adhesive
All lettering will be made in whole words, properly spaced with an easy to apply clear transfer tape on top. Easy-To-Use instructions are included.
For interior and exterior use.
All Lettering & Decals are custom made by us. We do NOT send it out.
Can be placed on cars, boats, trucks, vans, signs, magnetic signs, mailboxes, windows, glass doors, wall lockers, etc.. just about anywhere.
NOT recommended for walls as the adhesive is permanent!
Larger sizes available. Ask us.